[vc_row][vc_column width="1/1″][vc_column_text]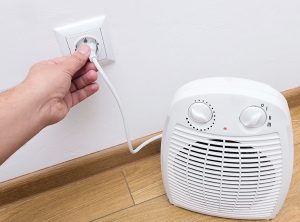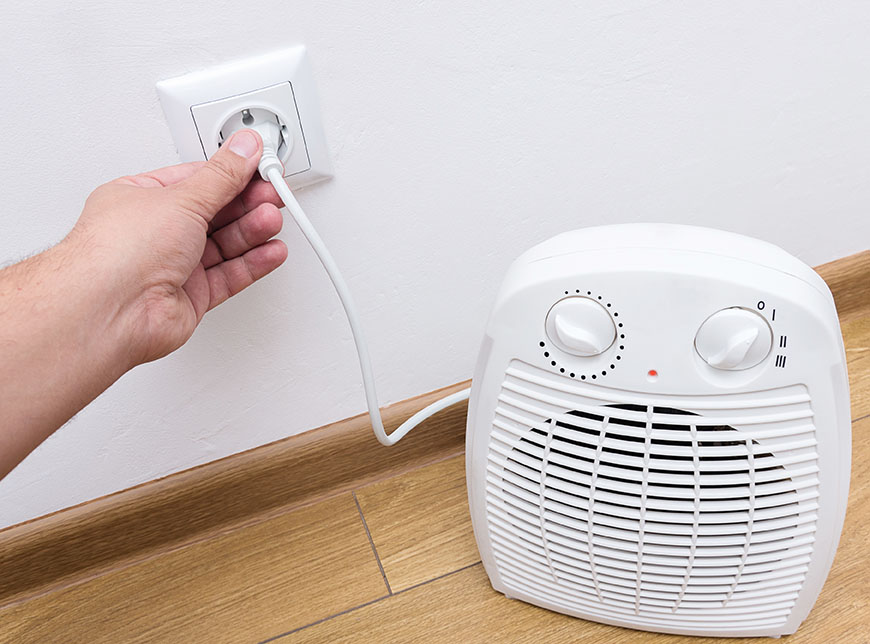 In Southern California, we know a thing or two about heat, but it's still helpful to know what space heaters are the best for different types of living conditions. What if you want a space heater for a larger room, or an apartment, or your basement? Space heaters are versatile, and if you're planning to invest in one, it's good to consider the best space heaters on the market, and we're focusing on the top 3 space heaters we've found based on research. And to start things off, a space heater has nothing to do with heating the cosmos (that's what the sun is for…at least in our solar system). A space heater is a device used to heat a single, small area in the equal but opposite way that central heating is used to heat many connected areas.
Space heaters could either be powered by electricity or a burnable fuel, such as natural gas, propane, fuel oil, or wood pellets. Portable space heaters are usually electric, because a permanent exhaust is needed for heaters which burn fuel. Electric space heaters fall into three main categories:
Convection heaters pass electricity through a heating element, causing the element to become hot. The elements are either metal or ceramic, and the process is known as joule heating. Heat is transferred to the air in the room by convection. Some heaters have a fan to increase air circulation, but oil-filled space heaters do not have fans.

Infrared heaters also pass electricity through a conductive wire, heating it. Most of the heat is radiant heating, rather than convection. The hot wire emits infrared rays, which transfer heat to a solid surface rather than the surrounding air.

Heat pumps use the same process as refrigerators and air conditioners, but in reverse. While convective and infrared heaters make heat from electricity, heat pumps move the location of heat. Heat pumps move heat from outside a room to inside, warming it. Many are reversible, able to cool the room by pumping heat out.
With help from the NY Times, we're showcasing some of the best space heaters — proven through trial and use! This space heater mission began in 2011 (that's almost one decade), with the team of researchers testing sixty-two space heaters — and, yes, that's a lot of heaters. This is because a lot of space heaters can make you feel like you're either sitting in front of a hair dryer or being engulfed by the sun. As such, these top space heater choices have been selected based on two primary factors: (1) how fast they warmed an entire room and (2) how comfortably they warmed an entire room.
Number Three: The Dyson Hot+Cool Jet Focus AM09
This space heater also conveniently doubles as a cooling fan, making it a great option for year-round climate control. With this option, you can choose between a "focused" or "dispersed" airflow (along with oscillation), so it can be used as a personal heater or to warm an entire room. This space heater consistently and steadily disperses heat throughout the room, and remains cool to the touch after an hour of continuous heating while significantly dehumidifying the room. You do need to use the remote control to access all of the Dyson's features, such as cooling and timer settings, and you can still access the Dyson's basic heating abilities with the single button on its base.
Number Two: The Lasko 754200 Ceramic Heater
This is one of the cheapest and most reliable space heaters on the market. It warms up faster than most fan heaters and has a compact, lightweight body that's about the size of a loaf of bread. The heat is a focused stream of hot air, which warms the area directly in front of the space heater. Though this specific space heater struggles in larger spaces, it's perfect for warming a home office or for quickly heating up a small bedroom. It might not the best-looking option, but beauty is in the eye of the beholder, right! And it does feature overheat protection…so that's a plus for us.
Number One: the Vornado VH200
The Vornado VH200 surpassed almost every other space heater in speed and total power, delivering an immediate temperature increase that built steadily and evenly across the room over the course of an hour. The VH200 is also quieter than most other ceramic heaters that have been tested, emitting only a soft, fan-like whir. It's also compact enough to tuck away in a corner, so it's convenient for smaller spaces, too. It's also winning on the safety side, as it features overheating and tip-over protection, and a plastic exterior that stays relatively cool to the touch (this means you can warm yourself without having to worry). 
So, you now know about what space heaters are and what they do, but it's also important to know how to pick a safe yet powerful space heater. This article outlines a few of the most important things to look for when picking the best space heater for you:
Think about what type of room you're trying to heat. Space heaters come in a variety of sizes for different spaces — including large room heaters, desk heaters, and outdoor heaters. Narrow your options down for the space you're looking to heat to find a product specifically for your needs. As noted in our

top space heaters

, some might do better heating only small spaces while others can do both small and large spaces.

Consider the amount of energy you want to use. Look for a heater that uses 750 to 1,000 watts because not all space heaters are as energy-efficient is they claim; in fact, most all use the same amount of energy!

Settle on a style for your heater. Do you want the heater to fit in nicely with the room's decor, or are you buying it purely as a functional appliance? For some, style could be a more important deciding factor than actual use.

Choose which extra features you must have. Certain units come with remote controls, thermostats, and the ability to oscillate.

Keep fire safety in mind. If used incorrectly, heaters can pose a fire-safety risk. The U.S. Consumer Product Safety Commission advises to always keep heaters at least three feet away from flammable objects, such as curtains or bedding, and to refrain from plugging portable heaters into an extension cord or power strip, to reduce fire risks.
[/vc_column_text][/vc_column][/vc_row]