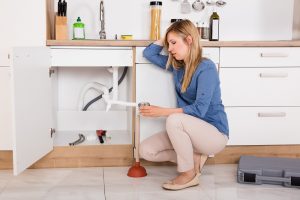 Your home is a collection of intricate systems, technologies, and devices; all made to make your life more comfortable. However, with so many of these delicate commodities, your home is subject to the occasional mishap. And of all that could go wrong, a plumbing problem is among the most severe. So when an emergency arises within your plumbing system, be sure to reach out for professional help. But how do you know if you have a crisis in the first place? In this article, we'll discuss how to discern the severity of an issue and whether or not it might constitute an emergency.
Know if it's an emergency!
It is essential to know when to call for emergency plumbing assistance. While some issues can wait, avoiding an emergency fee, others can not. And if you hold off to call when a problem is urgent, it can lead to further damage and ultimately cost extra.
Things to take seriously: 
Gas leaks. These are scary, and for a legitimate reason as they are also quite dangerous. So, if the smell of gas is very strong and lingers within your home, do not wait long to call for immediate help. However, if you find that the scent dissipates quickly and doesn't remain, you're likely in the clear.
Water leaks. It's easy to know that you're facing an emergency if you come home to floors flooded by a foot of water. But it's not only flooding that could indicate a severe issue– ones that may be more difficult to identify quickly. If you notice a small leak, trace the source as best you can as these can lead to significant problems. Check your walls and flooring if they are wet as well as the outside of your home for other indications. Any large amounts of water equal an emergency!
No heat in your home. In the winter months, when your heating system fails, your home is made quite uncomfortable and even dangerous for vulnerable groups. So, first, check to make sure that your thermostat is set correctly and that a breaker has not been turned off before reaching out for help. Otherwise, it's time to get urgent help to resolve the problem.
Faucet and valve malfunction. After extended use, sometimes the threads on your faucets can strip, making it impossible to turn off the water. When this happens, get immediate professional plumbing help so as not to waste too much water.
Water and gas leaks are likely the greatest threats to your home, so make sure to get help quickly in these cases. For other problems, you may be able to fix them yourself or schedule a plumber to visit your home at a later time. But, no matter the issue, whether urgent or not, do not hesitate to reach out to us at NIR plumbing. We are your dependable Inland Empire plumbing professionals, and we're prepared to address each of your home's plumbing concerns. Plus, with our 24-hour 
emergency service
, we'll be there for you when a plumbing problem threatens your home. 
Call on us
 today!